Reviews
Just received our beautiful 10,6" Chef's knife, and I have to say it was worth the wait! Thanks guys for the work of art and amazing new kitchen tool.
Blake Suggs / USA
I received my Forest Axe from Autine and couldn't be happier. Awesome axe - I want to order another one!
Craig Davis / USA
Articles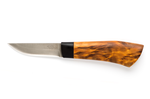 Hello, Northlander!
Scandinavians are well known for their ascetic yet stylish and extremely functional designs. Recent visit to Helsinki knife show on January inspi...
09/02/2017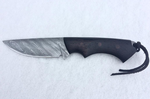 Sharp and even sharper!
Good news for those who prefer Damascus steel cutting abilities - Kurbads now available also in Damascus version! The secret of Damascus steel...
12/01/2017
Follow us on Instagram