Reviews
No job too small for these wonderful tools. These tools are such a pleasure to use I always look forward to working on my next project with them. Thanks for such a wonderful tool set!
Devin Ward / USA
The Chef's knife I bought from Autine...is AMAZING in kitchen... I love it!! Thank You and I appreciate your craftmaship...
Teppo Virkki / Finland
Articles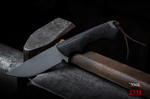 Black Friday Sale!
Have been looking for the perfect knife that will suit your needs while fishing, hunting, picking up mushrooms and also peeling potatoes in one p...
25/11/2016

BLACK BLACK BLACK!
Black Friday is good, but Black Weekend is even better! Check out our knives section this weekend to find real nice offer for one of them! We'll ...
24/11/2016
Follow us on Instagram