Reviews
No job too small for these wonderful tools. These tools are such a pleasure to use I always look forward to working on my next project with them. Thanks for such a wonderful tool set!
Devin Ward / USA
Simply the best axe made... I have had mine for over two years now and I am looking to get a Large Forest Axe. Autine is great to deal with and the axes function on a level unmatched by any other!
Michael Newbry / USA
Articles

Gift cards
In the festive season it is common that you find the right gift at the very last moment. Our tools are made to order, and the wait time might tak...
19/12/2017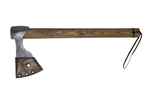 AUTINE Battle axe
This axe is something we all feel very proud of – it is a replica of 13th centry Latgalian tribe battle axe. We made it after a well-preserved ax...
03/11/2017
Follow us on Instagram